EASYSPACE
CONCEIVED TO MAKE YOUR LIFE EASIER
Focus on your core business, we'll do the rest
No more looking for an IT specialist to set up a server, remote connections, or configure a software on your PC. All you need is an internet link and an access code to use the software, anytime and anywhere. Don't worry about updates or backups. We'll take care of them for you.
Train at the speed of light
With Easyspace features, anyone can manage their self-storage facility. Your teams are trained extremely quickly, and you can even integrate temporary reinforcements or exceptional users who won't have access to Easyspace more than 2 hours.
Don't waste time: everything is fluid and intuitive
The business habits are reproduced so that the steps are automatically linked. The desired data is available instantly and all the modules are accessible in one click.
Store and share at will
Download, save and share any document. Now you can easily share documents with your accountants, employees, or others who need them.
Cleaner and cheaper with dematerialization.
Whenever a communication has to be made with the customer, it can be sent by email through Easyspace. And of course, you can personalize the message.
We take care of everything
Easyspace integrates accounting and banking interfaces. Easyspace is also connected to your system's access control as well as to your website. Your requests for quotes or reservations are instantly integrated.
Grow ... we accompany you
Whether it's more sites or units we automatically and quickly integrate your new spaces ... no need to draw plans by hand in Easyspace. Your new unit maps are set up and put online as soon as they're needed.
We're there for you
We accompany you from the start. Want to join us? Our teams will be there to recover your files. And if one day you want to leave us, we put at your disposal all the data in a format allowing its integration into a new tool.
TRACK YOUR ACTIVITY
IN THE BLINK OF AN EYE
BEING EFFECTIVE IS WHAT MATTERS
Easy
Cloud based web application
No dowload on your computer needed
Intuitive
Very simple control of the tool
without having to know the business
Connected
Banking and accounting interfaces,
security systems
Precise
Reliable and insightful data
Ergonomic
Quickly move around the modules
Dematerialized media
All documents are sent by email, all customers and accounting documents are stored in easyspace
STATISTICAL REPORTS
TO OPTIMIZE YOUR ACTIVITY
KNOWLEDGE IS POWER
Analyze
with key performance indicators
Compare
sites, periods...
Animate your teams
compared and personalized results
Track your results
in time
ALL YOUR DAILY ACTIVITY


IN A FEW CLICS
With Easyspace, you follow your leads and your customers; whether they are individuals, professionals, or business partners. You set your promotions, and their terms. Your available spaces are displayed on your website and your customers can make a reservation, or a contract online.
All bookings and contracts requests are automatically integrated into Easyspace. Monthly invoices are generated automatically and sent to customers.
Customers use their online account on Easyspace or on your website to pay by credit/debit card or other methods of payment; they can also manage their unit and change their insurance, transfer to a new unit, or give a notice of departure.

You can follow the status of your units and other spaces on your animated and colored unit map, according to their availability (busy, booked, etc.)

And you can also monitor, analyze and control your business with the sophisticated built-in reports and statistics module.

With Easyspace sophisticated agenda, you will instantly be notified of everything happening in your facility (such as the entries, exits, quotes, unpaid bills ...).

And with many other features:
• Easy accounting
• Easy banking
• Connected with your security control system
• Sell your products, accessories, and other services with the customer sales module. It tracks your stocks in real time
• Monitor, analyze anŸd control your business with the built-in reports and statistics module
• Track down your unpaid invoices with the semi-automated reminder module records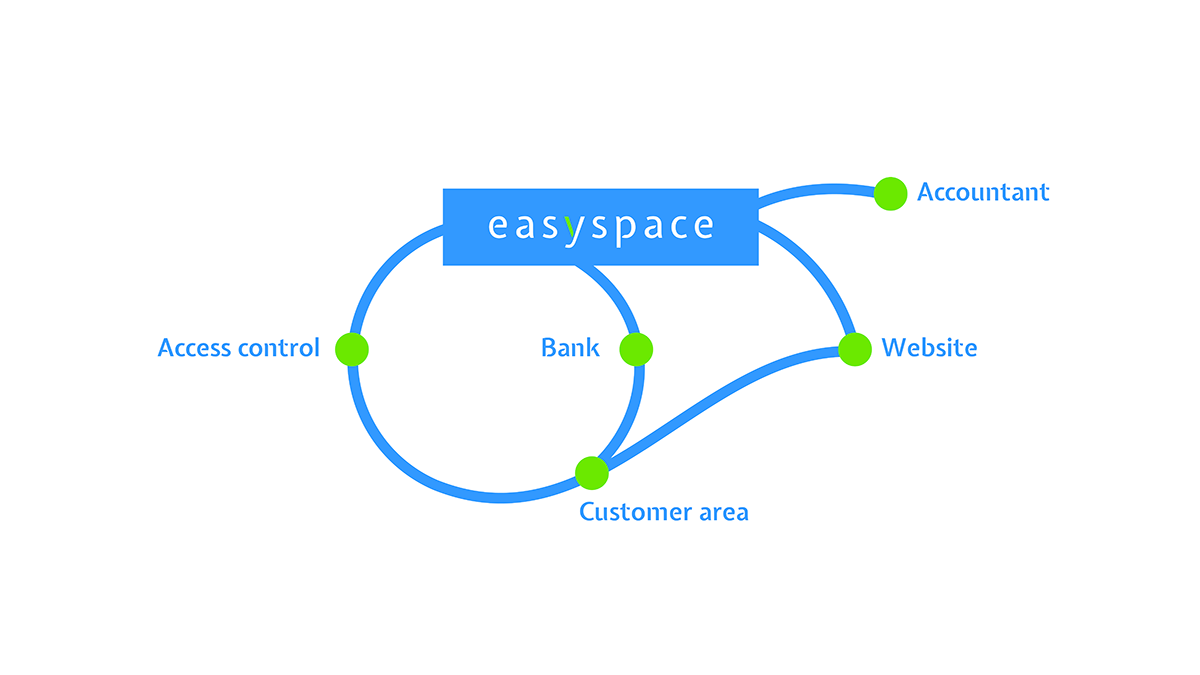 Work with a modern multi device cloud-based solution. Manage your facility easily from anywhere, anytime.

We enable you to achieve success - not just for today, but tomorrow.
Follow us !
Remain informed about Easyspace evolutions and new features by subscribing to our newsletter
Contact
us !
Do you want to see a complete demo?
Fill in the form.

The day of the demo, we'll send you a connection link, and we'll call you to show you Easyspace.